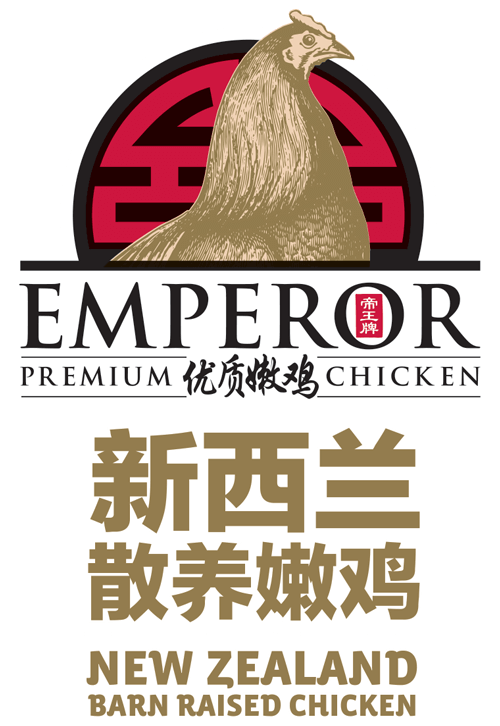 Our Premium Emperor Chickens
Celebrations, special occasions or any other time when only the best will do, Zealand Farms traditional whole chickens will delight.
This classic Chinese delicacy is locally grown with care to ensure the most desirable, tender chicken and is presented complete with head and feet.
Our chickens are barn raised and free to walk around. Once they reach full maturity they are processed in the Traditional Chinese Style.
Zealand Farms Emperor chickens are available throughout New Zealand. Contact us to find out where.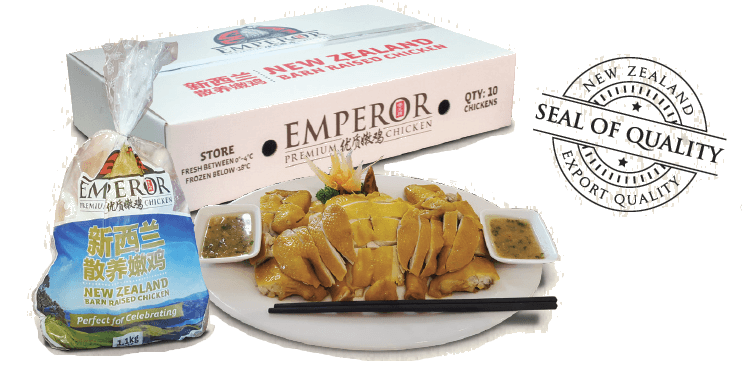 sylvia gee's emperor chicken
(buk Jum gai)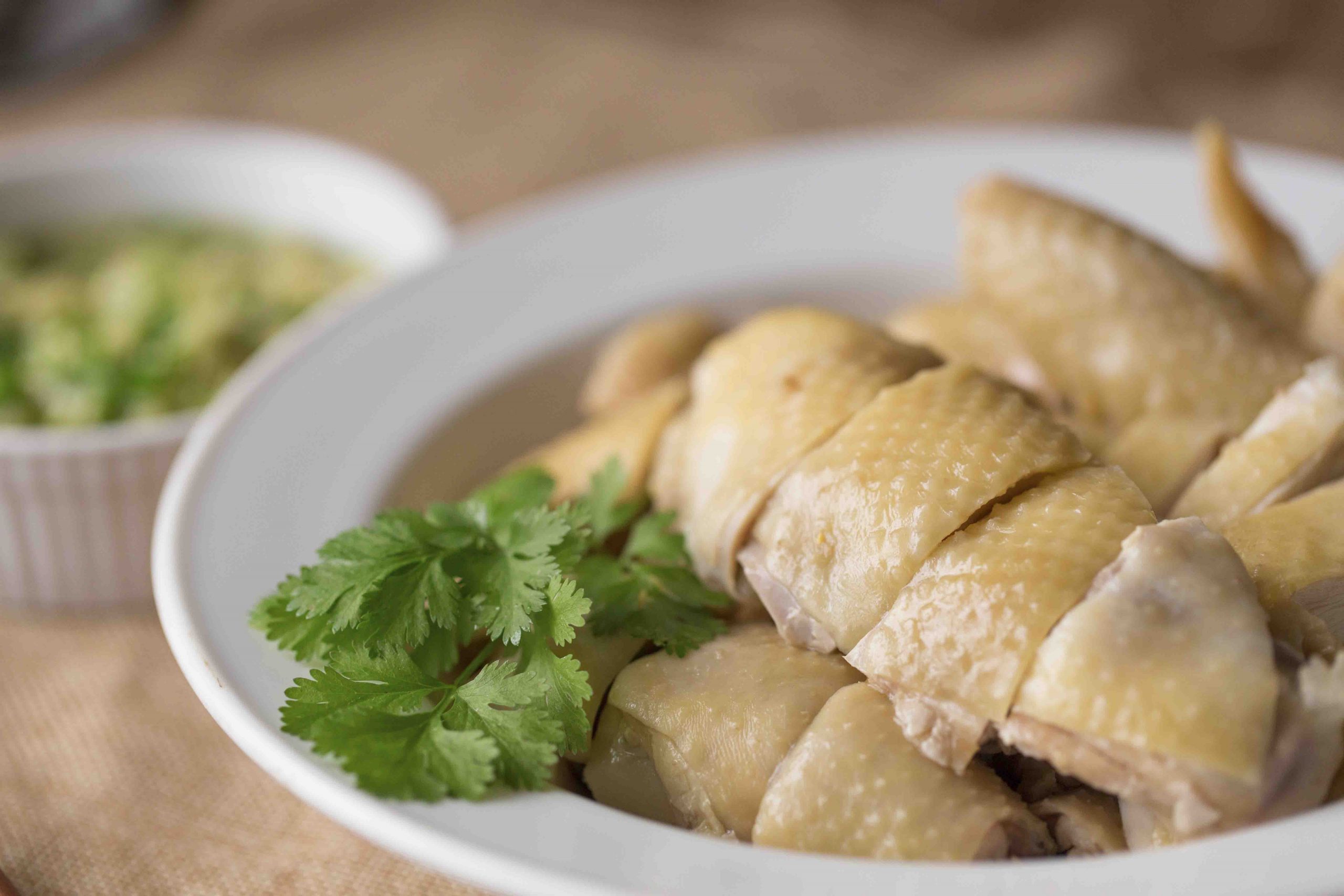 Whole Poached Salted Ginger Emperor Chicken (Buk Jum Gai)
Ingredients:
1 Emperor Chicken
2 Tsp Salt
½ Tsp Sugar
2 Tsp Shan Nai Ginger Spice ( Sa Geung Fun)
2 Tsp Rice Wine
¼ Tsp Black Pepper
In a large pot, add in 3 litres of water with 1½ Tsp of salt with 5 slices of fresh root ginger. Bring to boil and simmer for 3 minutes.
Place whole marinated Chicken in the hot water liquid. Slowly use the POACH method to cook the chicken for approx ½ hour on low heat. Half way through poaching turn rotate the chicken in the hot liquid so poaching is even throughout as well inside the cavity.
After cooking, take chicken out and run under cold tap for few minutes or place chicken in basin of cold ice water to make the skin firm. Take chicken out and rub small tsp of salt and tsp of rice wine. Let chicken set and chop when cold with Chinese style with Asian cleaver. Serve with fresh coriander and Ginger Onion Sauce.
sylvia gee's dipping sauce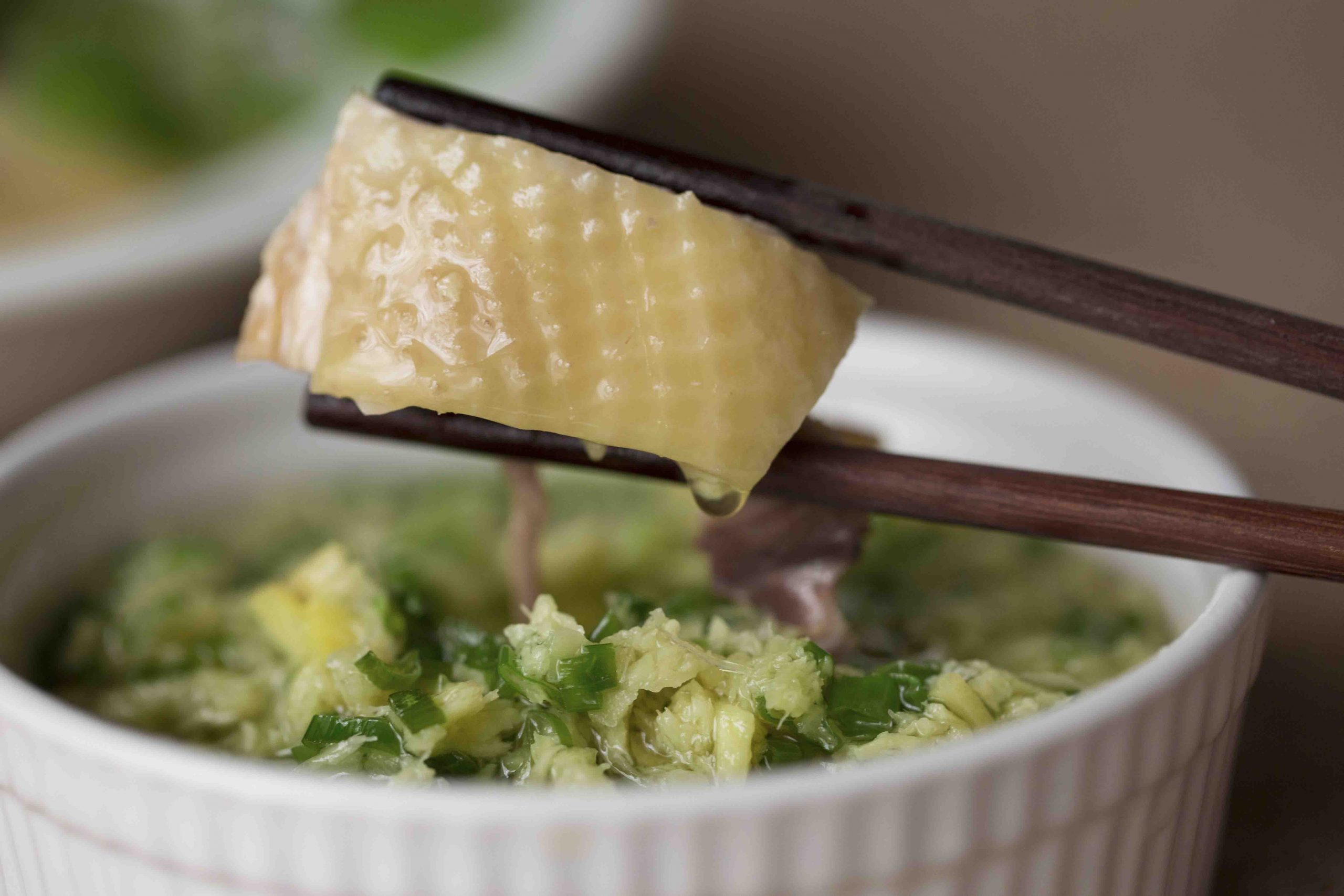 Chinese Fresh Root Ginger &
Green Onion Dipping Sauce
An excellent accompaniment with Hainese Chicken, Chinese Steam Boat or Chinese Drunken Chicken
Ingredients:
100 gms fresh Root Ginger
2 whole stalks Spring onions (include the white part)
1 whole Shallot
1 tsp Salt
½ tsp Shan Nai Ginger Powder
¼ tsp White Sugar
2 tsp Chinese Rice Wine
Approx 80 mls Peanut or Canola Oil
Peel the skin off the root ginger and using a Asian cleaver or mortar and pestle, crush the ginger root until a fine textured. Place in separate bowl. Next crush the shallot until a medium textured. Repeat with the green spring onions (include the white part). Arrange in separate bowls.
In a saucepan or wok, heat the oil to a moderate temperature. Add in the crushed ginger and shallots, stir quickly and add in the Salt, Shan Nai Ginger powder, and Sugar. Soon after, sting around the wok or saucepan with 2 Tsp of Chinese Rice Wine (this should only take a few seconds)
Remove this mixture to a small serving bowl that will be used as a sauce condiment. When ingredients have cooled down add in the chopped spring onions.